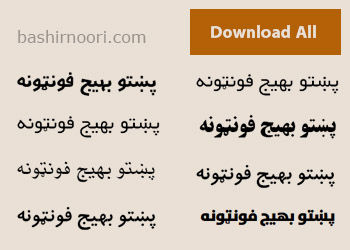 How to install fonts on your computer?
For Windows 7 / 8 / 10 / 11 users:
Extract the zip file and right-click the font file(s) and choose "Install".
For Mac users:
Mac OS X 10.3 or above (including the FontBook)
- Double-click the font file and hit "Install font" button at the bottom of the preview.
Mac OS X
- Either copy the font file(s) to /Library/Fonts (for all users), or to /Users/Your_username/Library/Fonts (for you only).
Mac OS 9 or earlier
- You have to convert the font file(s) you have downloaded. Drag the font suitcases into the System folder. The system will propose you to add them to the Fonts folder.
For Linux users:
- Copy the font file(s) to /USR/SHARE/FONTS
Icnluded Fonts: Bahij Aban, Bahij ASVCodar, Bahij Badiya, Bahij Badr, Bahij Baraem, Bahij Droid Naskh, Bahij Fedra Arabic, Bahij Firas-Regular, Bahij Greta Arabic, Bahij Hassan, Bahij Helventica Neue, Bahij Homa, Bahij Insan, Bahij Jalal, Bahij Janna, Bahij Karim, Bahij Kood, Bahij Lotus, Bahij Maged, Baij Bitra, Bahij Muna, Bahij Hyriad, Bahij Nassim, Bahij Nazanin, Bahij Palatino, Bahij Roya, Bahij SultanNahia, Bahij Tanseek Pro, Bahij The SansArabic, Bahij Titr, Bahij Traffic, Bahij Uthman, Bahij Yakout, Bahij Yakan, Bahij Zar
Years: 2020, 2021, 2022, 2023